V.I. Equipment has a large inventory of used Hitachi excavators for sale. In fact, we specialize in John Deere, Caterpillar, and Hitachi excavators. We also sell other makes and models of used construction equipment and used forestry equipment, and other types of used heavy equipment. Our equipment yard is located on Vancouver Island, British Columbia, Canada.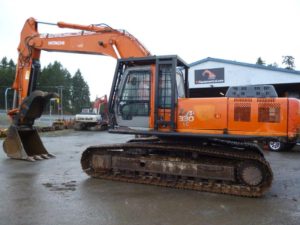 If you are looking for a used Hitachi excavator for sale in B.C., try us. We always have a variety of used Hitachi excavators in our yard, from mini excavators to large forestry, construction and mining machines. If what you are looking for isn't in our online equipment inventory, please let us know. We can help you find the right Hitachi excavator for you.
V.I. Equipment offers a large selection of used Hitachi excavators for sale at competitive prices. If you're interested in a Hitachi excavator, browse our online inventory, and find what you are looking for at the right price.  For used Hitachi excavator sales, please contact us.